White Kitchen Cabinets
Thursday, May 16th, 2019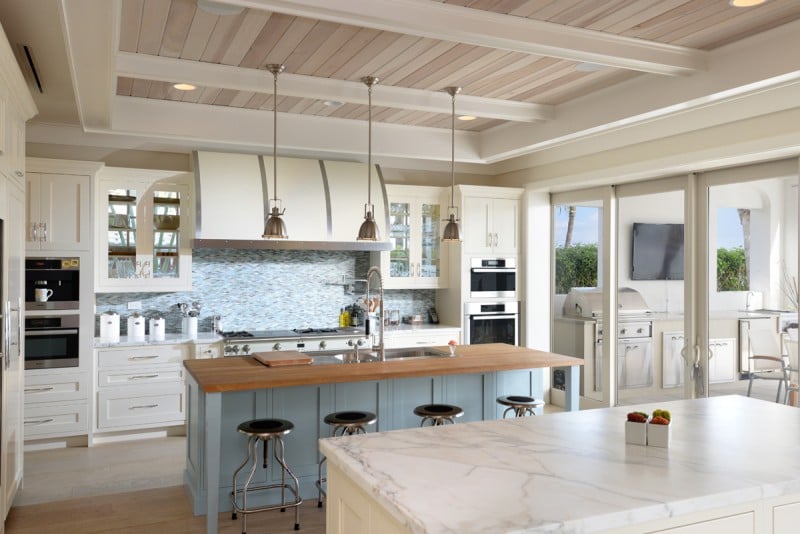 White Kitchen Designs – Are they still in style?
In our showroom, painted kitchens are very much the lead horse in the kitchen cabinet finish race. With a wide variety of color options to choose from homeowners choose paints over stains more often at Kitchen World. Certain television networks have changed the way in which kitchen styles are promoted to the masses but it is important to still speak with a local designer who understands the trends in your home town.
White vs Off-White
Over the last several years the pure white kitchen designs have fallen off some with off-whites picking up the slack. Whites with tones of brown or grey have become the most popular however pure white kitchen designs are still very much in vogue.
Trending Colors
As we work on kitchen designs in our showroom the influx of customers requesting greys and blues is increasing. The greys range in darkness and the blues can be light like a robin's egg or as dark as a navy blue. Solid colors with simple door styles are the most commonly requested combinations at Kitchen World.
Why White?
White cabinets are timeless and they can work in any space. White cabinets allow the room to seem bigger and brighter which allows other finishes to pop; countertops, flooring, backsplash or even hardware can give that "wow factor"! Designing with white cabinetry allows these other items to stand out without overwhelming the space.
How Do You Decide?
With the abundance of ideas available on television, online and in print it can be overwhelming to decide what is right for your kitchen. We encourage you to consult with one of our designers who will provide you samples to compare, 3D layouts to review and years of experience to guide you through the process.
Give us a call to schedule a consultation.